Just started your business? Need some tips to get a fabulous logo design for your small business? But, before that, can you answer my question? Did you ever see Big brands without Logo Design?
Definitely not right? Because today in the digital world, every business have realized the importance of branding- a way to establish a relationship based on trust and integrity with their consumers.
For example: Let's take big brands like Pepsi, Nike, Apple, Mercedes Benz, Levis.
So, whenever you look at this renowned brands or even hear about them, the first thing that strikes into your mind is their logo apart from their names.
Yes, a logo is such a first impression single element that represents your brand wholly.
Therefore, a logo has to be so effective and it needs to be done by professionals so it stands tall beyond time.
So, in this article, we'll discuss and put forward the different features that you need to know to "design a great logo for your small business" and how to make your logo part of the brand recognition drive.
The Importance of Logo Design:
Let's consider your Logo design is the profile picture of your business. So, now you can relate how important it is to have a good logo design for your business.
This gives the first impression and attracts new users to know more about you. It means it helps in creating an identity or recognition for your business or product by increasing brand visibility.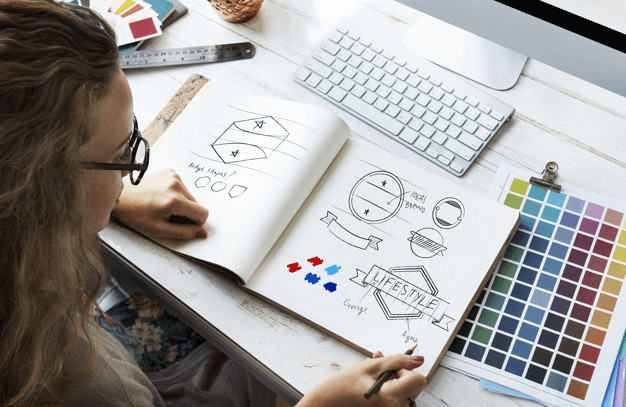 Furthermore, a company logo is not just used in one place. Starting from the website, mobile, your packaging, and your business cards. Make it count!
Thus, having a great, professional logo design has the power to communicate visually and make your business unforgettable.
So, "create a logo design" that sends positive vibes about your company, your product, and your business philosophy.
Tips to Get a Memorable and Unique Logo to Your Small Business
We all know designing a logo is a critical process because you just have to get it right!
You don't want to risk your brand by making common mistakes during the logo design process.
Therefore to get it right, we come up with some great tips that help you to create a unique logo for your small business.
#Tip-1) Keep it Clean and Simple:
When we talk about Logo design, the first thing that strikes in our mind are fonts, color, and shape. Yes, these aspects need to be clean and simple.
That is why now, we can easily recognize brands like McDonald's, Nike, and Apple just by the logos. 
If you have too many fonts or colors in your logo design, it will just confuse the target audience. Furthermore, you cannot successfully communicate the message you wish to send.
So, when it comes to choosing a perfect shape, font, and color. Take your time to find the right font or shape that best suits your business and refrain from using very common ones.
However, your choice should always be simple which shows the customer you are organized. 
#Tip-2) Be Unique and Clever:
Logo design is what distinguishes you from your rivals.
So it's important that the design stands out from the rest — something many small brands struggle with.
Therefore, always strive hard to show who you are among the crowd.
If you want to have a great brand identity, then stealing, copying, or borrowing the basic shape or idea of another brand's logo is an unwise move on your part.
There is always a difference between inspiration and copying.
Take inspiration but don't copy.
#Tip-3) Don't Use Clip Arts:
As I said above, your logo serves for different purposes like business cards, product packaging, and to name a few.
In such a case, if you plan to use clipart or photos for your logo design causes problems when reproduced.
So, always use a software like Adobe Illustrator to design the logo because vector graphics make sure the image remains consistent when resized.
However, by using affordable clip art, don't trap yourself in the situation of an expensive rebranding effort; build your logo the right way the first time by opting for unique logo design, not clip art.
Besides, by using clip art, don't portray your brand is cheap in between your audience! 
#Tip-4) Be Creative:
We all know brands like FedEx and Amazon which include creativity concept with their logo designs and in the process, that makes them stand unique.
So, don't limit your creative process, let them flow while designing the logo.
Sketch multiple concepts and work on the ones that you find the best.
Moreover, if you are clever with making unique designs work then don't be afraid to take the risk.
#Tip-5) Keep Your Color Scheme Simple
Color is a good thing, of course, but a business logo design that has too many colors added into it usually looks unprofessional.
Additionally, as a startup business owner, you might be tempted to add as much color to make your logo look so colorful. But, this is a mistake.
Therefore, remember, color does not define your logo's identity; it is how it looks.
Hence, strive for simple and keep your logo design color limited with two or three colors.
Moreover, while creating a logo design, it is best that you focus on its shape before you break out the color palette.
So, you can generally play around with different shades later but make sure that you stick to a simple color combo.
You can now see how WWF keeps its logo simple by taking advantage of negative space. Samsung follows suit with a blue and white scheme for its logo.
#Tip-6) Choose the Right Font:
If you're not a professional designer and love to design a logo of your own. It's common you will fall in love with a font that looks great on-screen in front of you.
But, this is a common mistake. Using too many fonts in a single logo just makes your design look messy. It might also confuse viewers.
Therefore, "hire a pro" and limit yourself with the minimum number of fonts in your Logo design.
#Tip-7) Try to Avoid Cliches:
It's very much easier to say than put into action. However, if you take a look at all the company logos currently, a lot of them would have used blatant clichés, or worse, blatant contradictions.
You know, the lightbulb to mean ideas, a lightning bolt for innovation, etc. All of those images, while great, but are overused.
Therefore, while you try to design a logo, try to be creative. Particularly, understand what type of message you're want to spread to your audience.
Furthermore, understand what are your company values and what sets you apart from your competitors.
Then, once you understood and decided what you're trying to spread, think it in a different way to express it.
In a different way in the sense, don't design a logo that looks entirely different from what your business is.
Instead, design your company logo, that your customers get it right, what your business is all about. At the same time, don't forget to differentiate yourself from the competitive pack.
Try to avoid clichés. There are still various ways to design your logo in such a way that it's communicative and understandable. Try not to follow the crowd.
#Tip-8) Use Your Own Typeface
A typeface can break or make a logo design. Remember, your goal is to make your logo stand out from the crowd.
One way to make it ideal and stand out from your competitor is to come up with a typeface of your own.
Using typefaces that are already overused will rarely make it unique. Therefore, take a page from successful brands like Disney and Google.
Bottom Line:
I hope the above-discussed tips will help you out to "get an amazing logo for your small business".
Besides, if you have more helpful tips to create a fabulous logo design, feel free to share it with us in the comments section.
Note: Reading all the above tips and making a business logo of your own using a logo maker doesn't make sense.
Even if you have the know-how, it's always good to ask for a little feedback from trusted sources. This keeps logo ideas fresh and gives you a chance to have a second glance.
Therefore, approaching a "professional logo design agency​"is the best thing to get the right logo design that is particularly in your mind.
Looking for a mind-blowing logo for your brand?
A great logo is good-as-gold. It can do wonders for your brand! We are here just for that. To create an amazing, awesome, and awe-inspiring logo for your brand.
We are ​the Chennai web development​​​ with a team of creative people provide you a fantabulous logo for your brand. We have designed all types of logos i.e., Symbolic/ Iconic, typography, Combination, Letter mark (initials), and Emblem.
Furthermore, we at Chenani web development, understand the essence and importance of logo design and deliver you the best what you thought of. 
Also, when we say we do logo designing for you, we do it right and we do it professionally.
Because it's not just a design, we consider it has a brand face, so there is no option of risk-taking. Our creative minds will make sure to communicate what your business sells, who you are, your values, and what is it that you offer to your customers–We take care of ALL of it!