Google is well known for its continuous and regular updates for all its applications and services and it constantly provides some other features to cheer its users. And, now the Internet Giant Google updated its YouTube app for all Android devices. This new update includes a video trimming option that enables users to get rid of unnecessary parts.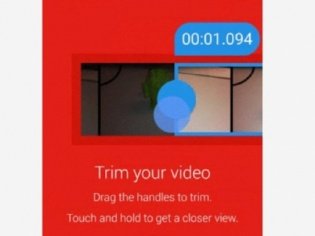 Many users may not find much enhancement with this revise, but the company gives the impression to have provided many options such as trimming unwanted portion of the video before uploading them to the streaming video service.  This video trimming update is already live on Android versions of YouTube application.  This refreshment in the update offers the users an added advantage, by letting them more conscious about the particular part they wish to leave off before uploading the whole video.
With this new classy update, we can easily predict the ease of user while uploading new videos on the move. In addition to trimming of the videos, this update let the users' record footage at the beginning of the video that is just to be trimmed off later when needed to get a call to action.
Users are offered with an outline that comprises two control points, which can be easily adjusted to signify start and end of the video clip. This awesome app renders Frame-by-frame trimming and a feature to get a close look up of the video while editing. This can be done with simple gentle touch over the frame.
As a last opportunity, users can preview their edited video before uploading it to the YouTube for processing and other display purposes. This feature is especially for Android version of YouTube app. In the new future, it will be hopefully get updated for iOS versions.